"Dr. Herb Greenman has been my doctor for two years. I lost my sight and now I'm regaining it back thanks to Dr. Herb. I was hit by a tanker truck while walking and was not likely to recover my sight. Dr. Herb is awesome!"
Robert Grahl
"Everyone I came in contact with was very friendly, helpful and professional!"
Ceal Richardson
"Highly professional, excellent medical doctors but friendly!"
Karen Jacob
"Dr. David Greenman and his staff are excellent. I had a wonderful visit. The staff was kind and courteous and Dr. David Greenman is an excellent Ophthalmologist. He is very thorough in his exam and I feel very confident having him as my doctor. "
Cassandra Gill
"They are very kind and thorough. You never wait long to be called for your examination!!!!!
I highly recommend Greenman Eye Associates."
Sylvia Mack
"Just a very professional and friendly team. Thank you for what you all do."
Walter Parker
"I was sent to Greenman Eye Associates many years ago with an eye infection my optometrist did not feel he was qualified to treat. They got me in right away. I have gone to them ever since. They did my cataract surgeries as well as my husband's. They dealt with my granddaughter sticking her finger in my eye scratching my cornea. They do an excellent job. I see Dr. Herb and my husband sees Dr. David. It is hard to know which you are seeing but David specializes in retinas and Herb in corneas. Their father, Dr. Max, started the practice and was an early practitioner working with lens implants for cataracts. Staff are great as well."
Mary Kyle
"This was my very first visit to your office. I came in because my long distance vision was getting blurry. Dr. David and his Nurse were wonderful. The receptionist was very nice. It was a wonderful experience. Dr. David is very friendly, personable and thorough. I would recommend anyone to this office. They turned a nervous and unpleasant situation into a very easy and positive one. God bless you guys!!!"
Sonia Stewart
"Great office, everyone was great and explained everything to my satisfaction."
Jan Johnson
"I love the personal attention I get from everyone at Greenman Eye Associates, from the moment you walk through the door. I have been a patient of Greenman Eye Associates for 12 years and they have been consistent in the care and attention they provide."
Diana Palecek
"My family and I receive top-notch service with a smile. Everyone was very professional, friendly, and knowledgeable. Greenman Eye Associates has a very clean and inviting atmosphere."
Brenda Moore
"I recently needed an appt. with David Greenman regarding complications from eye reconstruction surgery with another Physician. He made an immediate appt. for me and did a thorough and time consuming examination. He sent findings back to my surgeon which proved very helpful. He took a great deal of time from a busy schedule to lower my anxiety and offer constructive suggestions to address some of my specific concerns. Dr. David has been my eye specialist for many years and his Dad was my doctor before David. I have the utmost regard and respect for the Greenman Eye Associates and would recommend them to all who may be looking for ultra competent, humanistic medical providers who maintain the highest level of professionalism on a consistent basis. The support staff mirrors all positive aspects of the team of physicians."
Andrew Strand
"Very friendly and professional. Very pleased with my cataract surgery resulting in 20/20 vision."
Cindy Huseth
"I have been to Greenman Eye Associates twice; once for myself and now with my10 year old daughter. This has been her second time here and she absolutely did great with Dr David. I had another wonderful experience with Dr. David who is just as good as his father, Dr. Max. Great customer/patient service from the time I enter until the time I leave. Every time I've seen one of the doctors at GREENMAN EYE ASSOCIATES, I have nothing but GREAT WORDS. IF I COULD RATE them A MILLION STARS, I WOULD. Receptionists have always been nice, welcoming, and respectful from the time I walk in and even when I leave and that gives me a great feeling because I know they care. I am diabetic and Dr. David even did all the tests to make sure a nerve in my left eye was not glaucoma. He came in and introduced himself, was very nice, professional, and just a great wonderful eye doctor. He explained everything he was doing.  He was very gentle and I am in high spirits in hopes that with my diabetes I have a plan and goal and I will continue to come to this practice for my eye exams. I thank you to all the staff at Greenman eye Associates for a great experience and I will be back in six months like Dr. David Greenman requested to get my eyes checked. THANKS."
Jenny Cayetano
"Very professional, courteous, knowledgeable."
Ken Duffell
"They will always give you their best. Very nice people. Would refer others."
Michael Edwards
"Fast, professional, and very efficient. Staff and doctors always treat you with care."
Nathaniel Sewell
"Professional and helpful! Love working with everyone on the staff."
Matthew Davenport
"Friendly, attentive, professional from the check in to the check out. An absolute pleasure to know that they are taking care of my vision."
David Compton
"Very friendly staff and Doctors. Second visit and glad the Doctor caught what may be a serious problem. Thank you all!"
David Shanahan
"The office of Greenman Eye Associates is amazing. The front desk staff are very welcoming. The staff puts you at ease right away and Dr David is the best. As much as I hate eye injections, Dr David makes sure to make it as easy as possible."
Mary Young
"Entire experience was flawless. Took me in right away, conducted the tests, gave me a good report and was out in less than an hour."
Karl Albertson
"I'm a lupus patient and I have to get my eyes checked because of a drug I'm taking (Hydroxychloroquine). My health insurance changed so I could no longer see my regular ophthalmologist. I realized that Greenman Eye Associates was in my new network. I called and made an appointment because I remembered their commercials. To make a long story even longer...LOL...Dr. Herb Greenman noticed that my optic nerves were swollen. I was referred to a neurologist & then to a neuro-radiologist. Because of Dr. Herb's care and concern I was lined up with other Doctors which led me to an upcoming procedure that will prevent me from losing my eyesight; But I can't just stop there. Dr. Herb called recently to check in on me. Sad to say but, some doctors have a bad bed-side manner. They can make you feel like a number in a line of patients. Dr Herb is far from that kind of healthcare professional! I am grateful for Dr. Herb's attention, excellent service, his medical expertise, and his pleasant personality!"
Michelle LaSure
"Great customer service and trusted care."
Courtney Tesch
"I have been going to Greenman Eye for several years and have always had a very good experience. Their expertise, their friendliness, their staff, which hasn't changed since I've been going, says something about how this Medical practice is conducted. It is a bit of a drive but worth it since my eyes need expert care."
Virginia Keutmann
"My husband goes to Greenman Eye Associates. He is very pleased with his care from David Greenman. Dr. Dave is very caring and knowledgeable of all my husband's eye issues."
Ruth Smith
"I have been going to Greenman Eye Associates for a long time and it's always been a wonderful experience.  The best experience ever!"             
Shelton Robinson
"It is always a pleasant experience because the atmosphere is filled with happiness. It is not unusual to hear a burst of laughter!
Randal Kempka
"My wife and I have been patients of Greenman Eye Associates since 2011. I highly compliment both Dr. Herb Greenman and Dr. David Greenman along with their entire staff! I had eye related surgery by both Dr. Herb and Dr. Dave, and I trust them both completely! Not only are they knowledgeable and expert surgeons but they truly care about me as a patient and as a person. They have greatly improved my quality of life. They answer all my questions and I never feel rushed.
Again, I sincerely trust them with my precious eyes! I also highly praise all of the staff of Greenman Eye Associates, especially Terra and Alicia who are at the front desk in addition to Catherine. They are always so very pleasant and helpful!  I sincerely and highly recommend Greenman Eye Associates!"
 James Witulski
"Very thorough. Friendly staff. Dr. David was the best. I would recommend anyone needing an eye doctor to visit Greenman Eye Associates."
Leslie Connors
"Courteous, kind, professional and caring are the words I would use to describe my experience at Greenman Eye Associates. The staff greet you as though they are genuinely happy you are there. Recently, I was serviced by Dr. David, and he made every effort to answer any and all questions I had. He took his time in my examination; no rushing to get to another patient. It was a really good experience."
Rosilynn Noble
"My mom and I have been coming here since we moved to Charlotte. Always a wonderful experience; caring staff, and clean professional environment.
We went recently and all the new changes to keep people safe are in order. I literally saw them clean every seat and space after every client. They made us feel very welcome. Toni is a new staff member and I absolutely loved connecting with her as I have others in the past.
If you are looking for a personal family friendly location to get eye work, I recommend Greenman Eye Associates. They even removed both of my mom's cataracts, accommodated room for her wheelchair and made her feel comfortable in our recent visit. GREAT SERVICE!"
Luvleeh Poetilocks
I have been a patient for 25 years and have always received top notch service, care and advice.
BISHOP CHEEN
"Greenman Eye Associates are the best. They took very good care of me. I had cataract surgery and no more glasses. My vision is 20/20 now, thanks to them."
Robert Gregg
Some things are worth repeating.  Thank you!
"Thank you for your patience with me during my mother's illness and being so positive regarding my rescheduling of appointment dates three times. I do appreciate how you assisted me during these times of illness.
Thank you! Thank you!"
Bertha Owens
"Through the TV I saw Greenman Eye Associates.  We weren't happy with our doctor in Concord, so we decided to try Greenman Eye Associates.  From the first visit we noticed that Herb and Dave were twins and that was a sign we were in the right place.
They have three of the best doctors Herb, Dave and Max to take care of any problem and a wonderful staff that greets you with a smile.  Greenman Eye Associates has been a blessing.  It's our place to go. This is family and we enjoy coming here."
Carrol and Harold Mullis
Professional, courteous staff. Always a pleasure to work with!
AVERY STEPHENS
Dr. Herb Greenman; first I'll say "what a pleasant & pleasing personality he has!" He truly made my cataract surgery amicable and easygoing. Each & every office visit for postoperative follow ups was very proficient and he answered every questions I had, even the simplest ones! Dr. Herb Greenman (in my new eyes) is my "HERO" who made such an improvement in my "quality of Life!" God bless him and I truly thank him.
Artis Harrison
"I had a retinal detachment and Thanks to Dr. Dave's devotion and expertise, I now have 20/20 vision.  I am convinced he saved my  eye sight. I highly recommended Greenman Eye Associates because they are knowledgeable, compassionate and caring.
I feel secure knowing they will take care of my eyes if any future problems arise because I trust them wholeheartedly."
Heidi Wilton
"My uncle had eye surgery with Dr. Max in the early 1980's, so I knew of the great care provided by Greenman Eye Associates. While traveling on business in 2014 I had a hemorrhage in my left eye that severely limited my vision.
Dr. Dave performed a series of laser procedures and a victrectomy surgery which eliminated the bleeding and stabilized my eye. In fact, thanks to Dr. Dave, I am still traveling today as a courier driver."
Michael Hildreth
  "I have diabetes and Dr. David closely monitors me for diabetic retinopathy.  He carefully explains all procedures and techniques to me and uses the latest treatments for my underlying condition.
What I really like about Dr. Dave is he takes an interest in my personal life and wellbeing. He also acknowledges my input and questions, not like larger practices where I was rushed in and out. 
I am thankful to have found Greenman Eye Associates."
Stephen Coen
"I've been coming to see Dr. Greenman for 40 years. I came in initially because I had an eye problem at work. I called them, I came right in and because of Dr. Greenman's surgery, I can see today. I am eternally grateful. Because of Dr. Greenman's genuine personality, I brought my children in also and we've been coming for three generations now."
Mildred P. Blackwell
"Dr. herb did surgery to eliminate cataracts and suggested that I have permanent lenses implanted to decrease my reliance on eye glasses. I am thrilled with the results. Greenman Eye Associates is the best and I trust all three Doctors"
After over 25 years of wearing glasses, I was thrilled when Dr. Herb suggested permanent lenses after custom cataract surgery. Now I am in love with the freedom I have with no glasses. In fact I have three pairs of sunglasses made from my former glasses.
Darlene Jones
"Early in 2017, I had custom cataract surgery with Dr. Herb Greenman. This was a life changing miracle for me. I went from wearing the thick, heavy glasses I had worn all my life to seeing 20/20 with no glasses. My theme song is 'I Can See Clearly Now'
"Many, many THANKS to Dr. Herb—I cannot say enough about his professionalism, his care for his patients, and patience in answering questions. Three things I remember most are the care I received, the diligence in finding just the right procedure, and just a true feeling of being an individual with my specific issues—no cookie cutter fix!"
Judy Caldwell
"My husband Phillip and I were about to go on a once in a lifetime trip to Israel and he did not want to deal with his contact lenses. Since Phil was planning on having cataract surgery, Dr. Herb suggested a customized treatment plan for Phil using monovision Toric lens implants.
The outcome was a success; no more contact lenses. Thanks Dr. Herb for making our trip to Israel wonderful!"
Dianne and Phil Nordan
"Dr. Herb, Thank you for the care and concern you and your staff showed during my cataract surgery. I can see so much clearer at night and I feel so much safer driving. Again, thank you for being my doctor and taking care of me. Thank your staff for being so friendly and professional."
Dianne Helms
"The staff at Greenman Eye Associates is very nice. You just feel you've come to visit with friends, but you know you're going to get the best care."
Hettie Wright
"Whenever I come to Greenman Eye Associates, it's like coming to see a family. Everybody is so friendly and it's always a wonderful experience."
Audrey Wright
"My experience with Greenman Eye Associates has been amazing. They were referred by a Trusted colleague. The level of care and expertise delivered by all the Greenman doctors has exceeded all my expectations. In addition, the entire staff sets the standard for quality customer service. I will be a customer for life!"
P. Payne
"Coming to Greenman Eye Associates has been a wonderful experience for me and my family. When we come, we never have to wait. We are always whisked away to a private, spacious room in the back and we're given the best care."
Jordan Garrick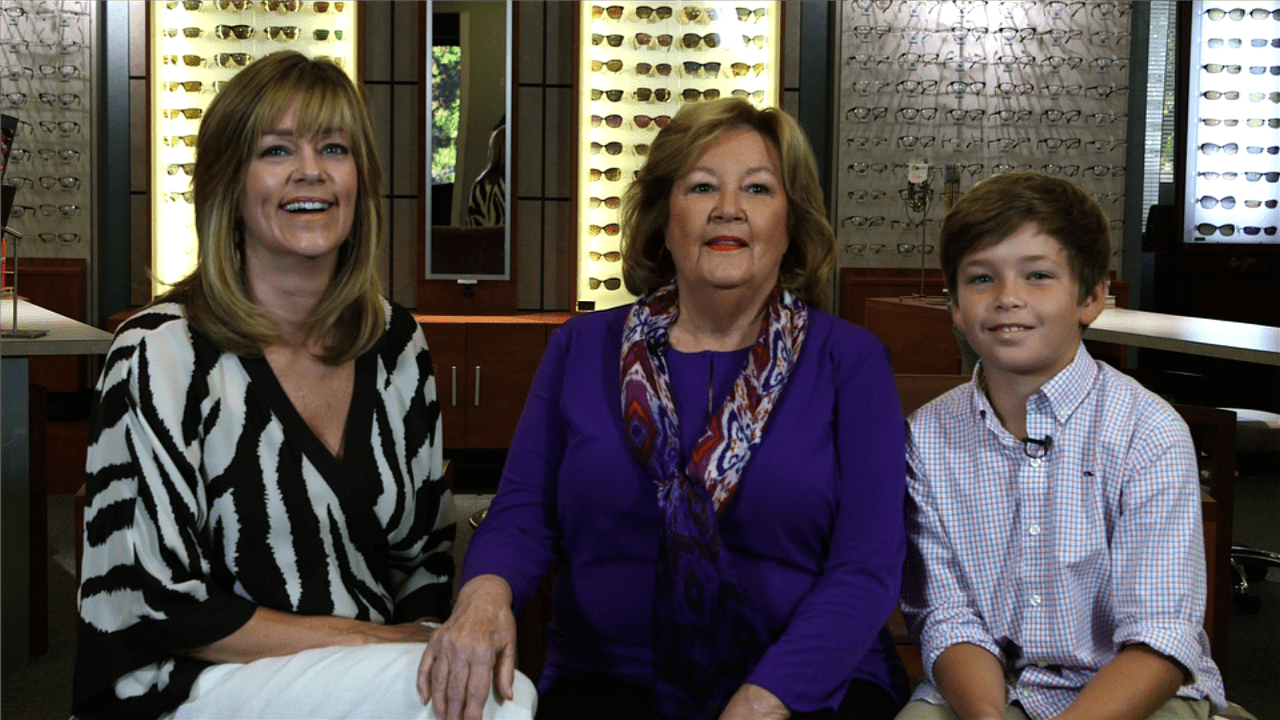 "Dr. Max Greenman was a personal friend of my husband's so we both came to his practice. When my daughter Gretchen had trouble seeing in school I brought her to see Dr. Greenman and she brought her children. Now we have three generations at Greenman Eye Associates."
Adele Gordon
Dr. Herb Greenman,
"It's easy to be grateful when there are wonderful people like you in the world.I want to thank you and your staff so very much for giving me back my youthful vision!
Your office staff are all so kind. Most of all, I appreciate not having to wear glasses.
Thank you for my better vision."
Kathy Meacham
"I feel so very blessed that I found out about Greenman eye Associates from my friend Charlotte Johnson. I accompanied Charlotte to Greenman Eye and discovered a wonderful caring ophthalmology practice. I have been going there for the past 5 years .
Herb Greenman performed cataract surgery on my eyes. What a wonderful experience. Everyone one in the office is so nice from the front office to the staff.
Charlotte and I have been friends for years and she raves about her experience at Greenman Eye Associates. I feel so lucky to have found such caring doctors"
Kristen Holliday
Dear Dr. Herb…
"When I see a pretty sky, a beautiful bird, or my own eyes, I think of you and thank God for helping me find you and for your talent in restoring the sight for so many people!"
Nancy Biggers
"Post-surgery with Dr. Herb, I can finally enjoy all the vivid colors in my paintings, and in the flowers, trees and sky above. I am so thankful to Dr. Herb.
Stephen Kropp
"For 40 years I suffered wearing contact lenses; now, no more glasses or contact lenses. I can throw everything away. I am finally free. When I wake up in the morning, I can see. I love going to a family practice. When I call the office, I get to speak to Max or Herb. Max operated on me 30 years ago and now Herb performed the ReSTOR lens surgery. There is something about family continuity and caring for patients that you find only at Greenman Eye Associates."
Linda Ventura
 "After Lasik surgery with Dr. Herb Greenman, I got rid of my contacts and glasses for good! I will tell you my secret. I use one of the best ophthalmology practices in the area, where the patient is priority #1 and their quality of life through better vision is serious business."
Jill Sladjoe
"For many years, Dr. Greenman has always been there for our family's eye care. His compassionate competence is very reassuring"
Rolfe Neil
"Greenman Eye Associates is my little secret, too! Dr. Max Greenman has been my ophthalmologist for years. Recently, he opened Greenman Eye Associates with his two sons, Herb and Dave, all professional MD's with a quality of care unmatched in our area. It's the best kept secret in town for quality vision care and custom Lasik."
Barbara McKay
"If it hadn't been for Dr. Greenman performing surgery on me at midnight after an accident that caused a piece of my safety glasses to get caught in my eye, I'd be blind today. I highly recommend Dr. Greenman."
Dale McLaughlin
"The front office staff at Greenman Eye are the BEST—All doctor's offices should be so lucky to have such warm, friendly and caring employees."
 Rozanne Sklar
"Dr.Max Greenman is so knowledgeable and caring. He is the tops; there is no other."
Ingeborg and Alex Hegenbart